Winter is coming. And with it: slippery roads, black ice, and snow-covered driveways. For teen drivers fresh from receiving a learner's permit or with a few miles under their seatbelts, hitting the road when the weather calls for snow can be not only daunting — but dangerous.
There are few things more chilling to parents than the thought of your child getting into an accident, so it's necessary to provide them with the tools and knowledge to navigate the roads with confidence.
In the Philadelphia region, the drop in temperature brings about renewed excitement to tap into seasonal activities. It's best to prepare your teen for rough, wintry conditions before they take a ski trip to the Poconos, a drive to see holiday lights, or even just a quick trip to a friend's house at night when ice is harder to detect.
Icy, snowy roads can be fatal
According to the Federal Highway Administration, 24% of weather-related vehicle crashes occur on snowy, slushy, or icy pavement and 15% happen during snowfall or sleet. Annually, over 1,300 people are killed and more than 116,800 are injured in vehicle crashes on snowy, slushy, or icy pavement.
However, new drivers and their parents don't have to be intimidated. NJM Insurance Group's Teen Driver Safety Program offers parents and their teens resources to help skillfully handle challenging road conditions. These free programs are highlighted in NJM's recently released 2022 Teen Driver Safety Report that describes their collaborations with regional partners including the Children's Hospital of Philadelphia, Impact Teen Drivers, and the Brain Injury Alliance of New Jersey.
The report stresses that even one teen passenger in the car can nearly double a teen driver's risk of being involved in a fatal crash. Notably, teen drivers aged 16 to 19 are nearly three times more likely to be involved in a fatal crash than drivers aged 20 years and older.
Moreover, first-time teen drivers aged 16 to 19 are at the highest risk of being involved in a car crash during their first 12 to 24 months of driving. It's important to remember that snow and ice decrease pavement friction and vehicle maneuverability, resulting in slower traffic, reduced roadway capacity, and increased crash risk.
Rest assured, parents can melt away their fears by preparing their teens for slushy roads. Before taking their car out for a ride this winter, your teen should take the necessary precautions to ensure their safety in hazardous conditions. Read on for a few key tips: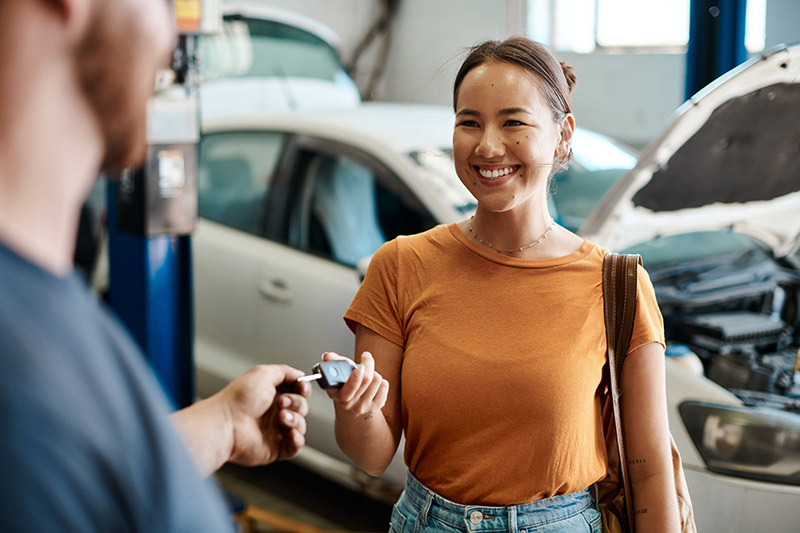 1. Prepare for winter with a fall maintenance check
Teens should take their vehicles in for a maintenance check-up before winter begins. This gives drivers — and parents — peace of mind that their vehicle is ready to face cold weather; it also ensures plenty of time to make any necessary repairs.
This check-up should confirm that their vehicle's tires, battery, radiator, brakes, defroster, and antifreeze are all in good condition and ready for winter.
In addition, remind drivers to keep their washer fluid full. As we drive, dirty slush gets sprayed onto our vehicle from other cars on the road — and if you've ever tried to clear this mess from your windshields without washer fluid, you know it doesn't go too well.
Want an added precaution? Have your teen change to winter wiper blades and mount winter tires on all four wheels.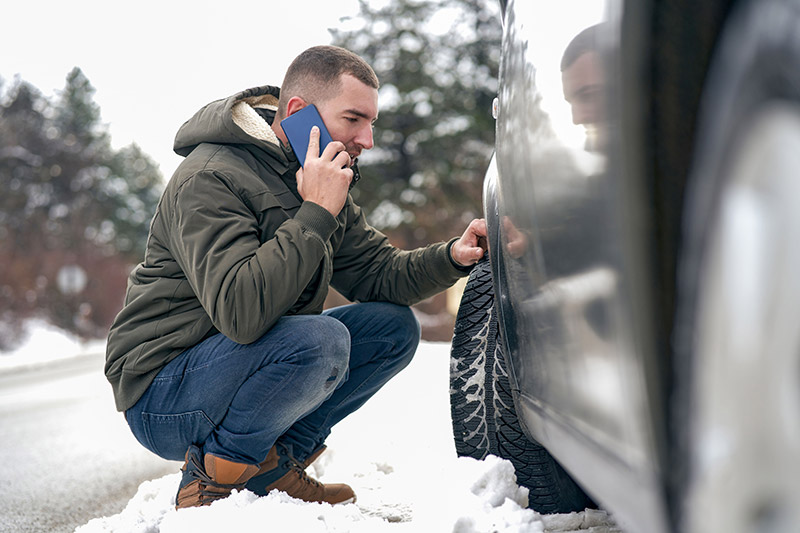 2. Keep cold-weather supplies in your vehicle at all times
It's nearly impossible to predict if your teen will end up stuck on the side of a winter road, but it's important for them to be prepared.
New Jersey residents might be more familiar with pumping fists instead of gas, but it's always best to keep an extra canister of fuel in your vehicle in case you get stuck on a snowy road and are driving on fumes.
If your teen needs to get out of their vehicle or walk for help, make sure they ditch their sneakers for a pair of boots — preferably a pair with traction. Keep the thought of frostbite in the rearview and always have a pair of warm footwear on hand.
If they do find themselves stuck, it might take longer for first responders to dispatch and assist them in the dead of winter. Teens should be proactive by always being prepared for the worst.
Store an emergency kit in the trunk and include the following winter supplies:
Flashlight
Blanket, coat, and gloves
Hand warmers
Snow shovel and ice scraper
A few bottles of water and protein bars
First aid kit
Ice melt and/or kitty litter to help tires get traction
Booster cables with fully charged battery
Oh, and one more thing: a portable phone charger with extra batteries. It's essential to have the ability to call for help.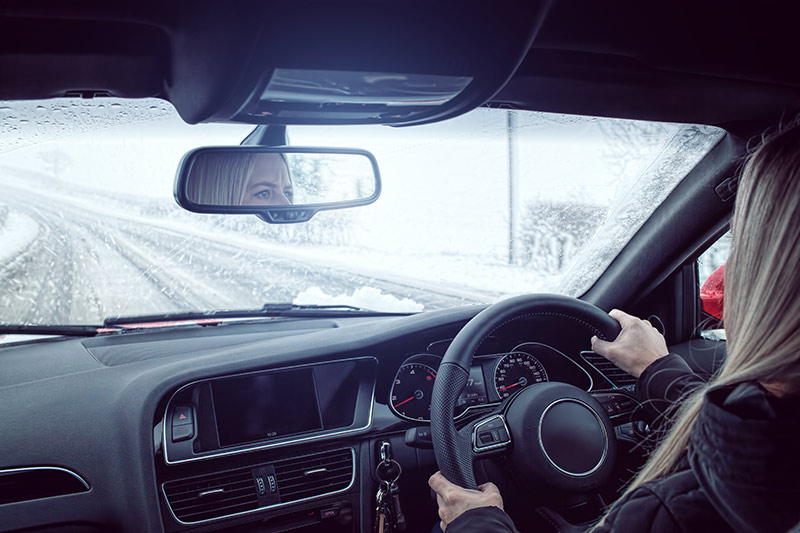 3. Stay alert on wintry roads
Remind your teen to drive much slower in icy or snowy conditions. They should also avoid sudden movements and make sure to accelerate and decelerate slowly to reduce their risk of sliding or skidding off the road.
Even in frosty conditions, other drivers will be occupying the road. To be safe, remind your teen to follow drivers ahead at a greater distance. If they have to slow down or stop suddenly, they'll be much less likely to roll into another vehicle.
While on the road, it's also critical to never assume a puddle is simply water — it might be ice hidden in plain sight. Additionally, bridges are often much more slippery than regular roads. (Looking at you, "BRIDGE MAY BE ICY" and "BRIDGE FREEZES BEFORE ROAD" signs.) Even if the roads feel like they are in good condition, drive with caution over bridges.
Important: If driving in ice, snow, rain, or sleet, never use the cruise control setting. Using cruise control in these slippery situations puts a vehicle at risk of hydroplaning — and puts your teen at risk of losing control of their vehicle.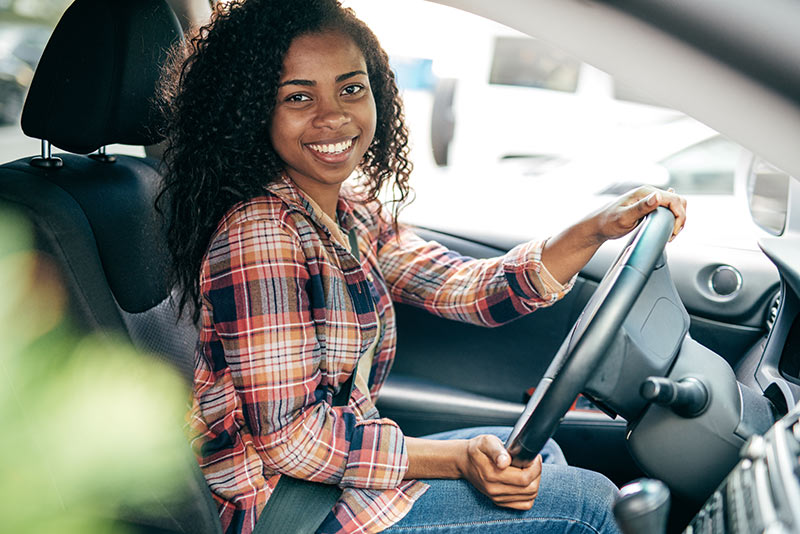 4. Practice, practice, practice
Teen drivers may need extra practice to become a safe winter driver.
When driving in inclement conditions, stay alert, slow down, and stay in control. Stay put if conditions are truly hazardous or a travel ban is in effect. No amount of preparation or skillful driving will guarantee your safety.
NJM emphasizes the importance of behind-the-wheel training for teens focused on engaging drivers and their parents through research-based, data-driven programs that address teen driving safety, increase awareness, and enforce safe driving behavior.
The insurance company offers free teen driver safety programs as part of its enduring commitment to safety and to support the communities they serve.
You and your teen can join Share the Keys, a 60-minute, interactive program that is designed to reduce teen driver crash risks through increased parental involvement.
Other programs, like What Do You Consider Lethal?, are designed to help teens avoid reckless and distracted driving by making responsible decisions. Newly licensed drivers can also take the Just Drive pledge to help put an end to distracted driving.
For more information on how to keep your teen safe and save on your insurance, visit NJM.com.