Leading a major U.S. city is no easy feat, but with numerous candidates' hats in the ring this election season, Philadelphia's top job remains highly coveted.
As the race heats up in advance of the city's May 16 primary, the Chamber of Commerce for Greater Philadelphia is ramping up its efforts to push for policies that affect real change that will positively impact the local economy.
Where is the Chamber focusing its advocacy efforts? Inclusive growth that benefits and improves the lives of everyone in Philadelphia — residents, workers, and visitors alike. By highlighting the potential for job creation and quality of life improvements, the Chamber strives to drive support for a brighter future for all who live, work, and play in our city.

Changing tax policies to benefit all
"Philadelphia residents have a unique opportunity [in this election] to voice what matters to them the most," said the Chamber's President and Chief Executive Officer, Chellie Cameron.
"As I hear from our members and engage with my neighbors in the city, their top concerns are crime, safety, cleanliness, and jobs. I believe that these issues are interconnected, and creating job opportunities will lead to a safer and healthier community," said Cameron.
But what are the hurdles to creating opportunities? Taxes on local businesses and residents. In terms of job access and quality of life, the Chamber feels that businesses need a tax structure that allows them to pay better wages and hire more people.
Philadelphia business leaders have advocated for reforms to the city's tax structure to eliminate taxes that have been identified as considerable barriers to competitiveness, specifically the double taxation of businesses through the business income and receipts tax (BIRT) and its highest in the nation city wage tax. Their impact, though universal, poses a significant challenge to many small- and minority-owned businesses.
To promote its inclusive growth agenda and advocate for reductions in wage taxes, the Chamber has been working with the Inclusive Growth Coalition (IGC) — a collaboration of the diverse Chambers, the African-American Chamber of Commerce, Greater Philadelphia Hispanic Chamber, the Asian American Chamber, and the Independence Business Alliance.

Last year, the IGC successfully worked to pass a modest rate reduction, which the Chamber acknowledged as a step in the right direction.
However, the Chamber continues to advocate for further reductions in these burdensome taxes to foster long-term growth and stability. This is especially crucial for small and mid-sized businesses, particularly those owned by Black and brown Philadelphians who require the most relief in the current economy.
As Cameron put it, "We can't have growth that only benefits a certain segment of the population."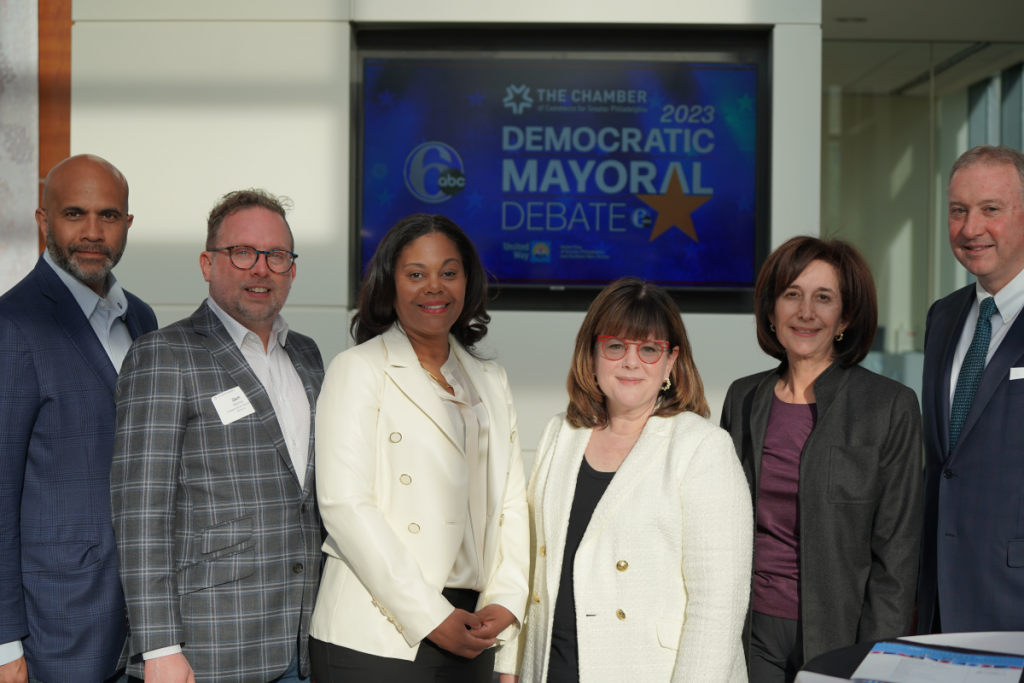 Creating a culture of safety
As Philadelphia continues making strides toward 21st-century economic progress — particularly for underserved communities — persistent challenges such as safety and poverty hinder the city from reaching its full potential. Crime and safety not only affect residents, but also impact workers and visitors, making public safety the top concern for 70% of Philadelphians, according to a 2022 Pew Trusts report.
"I believe it's crucial for businesses to prioritize cleanliness and safety for their employees and customers. We need to address these fundamental issues in the city so that businesses can thrive and their customers feel confident and secure," said Cameron.
To combat gun violence in Philadelphia, the Chamber is working with the Coalition to Save Lives to advocate for prevention-based solutions which prioritize community cohesion and economic opportunity. Cameron emphasizes that effective prevention and reduction of gun violence requires a collaborative effort between government, community organizations, and businesses.
With the goal of helping policymakers understand the impact of legislation and ultimately result in a better outcome, the Chamber invites policymakers to include the business community when drafting legislation and examining its implementation through the regulatory process.
"It's going to take a lot of detailed work and focus from whoever becomes our next mayor," said Cameron. "My message to them is that we need them to focus on these issues, but we know they can't do it alone. We're ready to stand beside them."
Teaming up with local businesses
Running a Black- and woman-owned business in a competitive marketplace is challenging, but for Chamber member Donna L. Allie, CEO of Team Clean Inc., the drive to ensure the success of her business — and others like it — is relentless.
"For the next mayor to truly support local businesses and foster a thriving ecosystem, we need to do more. We're not there yet. We're not doing enough," said Allie.
Allie's passion for promoting local resources inspires her to encourage people to reconsider any preference they may have for larger corporations and instead support locally-owned businesses, especially those owned by Black and brown Philadelphians.
"For instance," Allie explained, "when a national firm with headquarters in New York or California operates in Philadelphia, its corporate taxes go back to its home state. They don't have the same passion and commitment to the people of Philadelphia that we do. We need to give back to our community and ensure that our local businesses thrive."
Allie founded Team Clean in the mid-1980s and has grown the company to over 700 employees, serving various clients in government, education, industry, professional offices, and sports and entertainment venues and events. The company's highlights include clients such as the 2000 Republican National Convention in Philadelphia, the Kimmel Center for the Performing Arts, the Wells Fargo Center, and Citizens Bank Park.
Allie believes that business owners need a passionate mayor who is committed to closing the wealth gap and supporting one another in the business sector. She hopes the next mayor will push for fairness in the procurement process and engage the private sector in helping to grow local-, small-, minority-, and women-owned businesses.
"In order to close the equity gap, we need to create Black and brown wealth in this city. It's going to be a slow process, but I believe that this generation of business and the right mayor must prioritize this for the next generation. Otherwise, we're going to continue in this cycle of poverty over and over again," said Allie.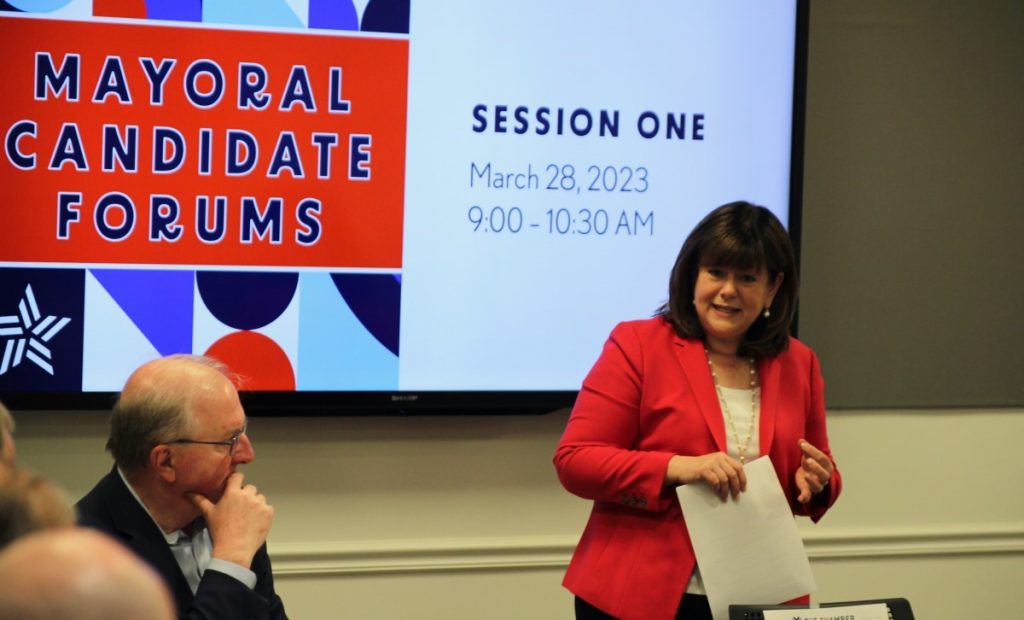 Pro-growth is pro-Philadelphia
The Chamber is confident that, with the right mayoral approach, Philadelphia can turbocharge its growth, broaden its tax base, and create family-sustaining jobs that benefit all residents, businesses, workers, and visitors.
"Our mayor needs to be an authentic, empathetic leader who can champion both businesses and residents and promote the city," said Cameron. "We need to focus on creating real jobs with living wages that attract more people to work in the city. We need a mayor who can lead in all aspects of the job and tell positive stories about the region."
As candidates run for mayor and City Council, the Chamber emphasizes the need for plans that address the interconnected challenges of safety, poverty, and taxes. By working in partnership with businesses across the city, candidates can develop a coordinated approach to improve public safety and economic growth for all Philadelphians.
"I love Philadelphia and want to make it the best place ever — and I hope we can have a mayor who shares that vision," Cameron added.
For more information, the Chamber of Commerce for Greater Philadelphia's election hub serves as a valuable resource for voters to learn more about the candidates and their plans for the city's future.
Paid for and authorized by the Chamber of Commerce for Greater Philadelphia. Not authorized by any candidate or candidate committee. All images courtesy of the Chamber of Commerce for Greater Philadelphia.