Pennsylvania General Assembly Act 16 of 2016, better known as the Medical Marijuana Act, turned the tables for Pa. residents suffering from severe medical conditions. On April 6, 2016, Governor Tom Wolf legalized medical marijuana in the state, allowing patients to apply for medical marijuana cards and access the medication at local dispensaries.
In its five years of institution, the medical marijuana program has provided access to care to 582,000 registered patients and caregivers and awarded over 343,600 active certifications. The number of dispensaries throughout the state has also grown with demand, with 119 medical marijuana dispensaries currently open and providing products to patients.
Qualifications for obtaining a medical marijuana card

There are several requirements for Pa. residents to receive a medical marijuana card, beginning with age limitations. Applicants registering for the adult patient form must be at least 18 years of age, while those under 18 are considered a minor and are required to apply with an adult caregiver and a physician certification. A spouse or parent is considered a caregiver, and they must also register for the medical marijuana program, in addition to completing a background check to receive approval.
Additional qualifications for obtaining a medical marijuana card include being a legal resident of the state with proof of residency, and providing certification from a Pa. Department of Health (DOH)-approved medical practitioner after completing an in-person examination.
Most importantly, only registrants with an approved serious medical health condition are eligible to receive a medical marijuana card. Some ailments include autism, anxiety disorders, cancer, epilepsy, multiple sclerosis, Parkinson's disease, and Tourette syndrome. Applications can find a full list of approved health concerns on the DOH site.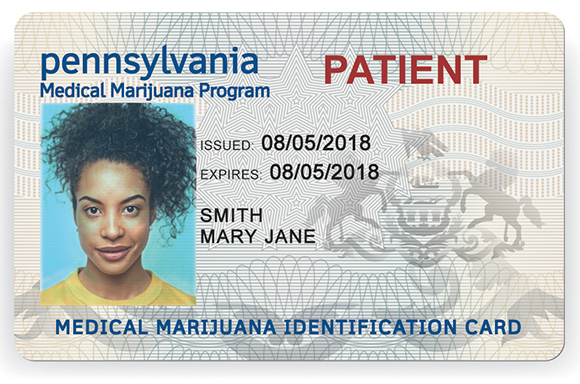 How to apply for a medical marijuana card

There are three simple steps to receive a medical marijuana card in Pa. and must be completed in the following order:
1. Register

The first step in the application process is to register on the DOH website, through the Medical Marijuana Registry. Adult patients will be asked to create a profile that includes their basic information, such as legal name, current address, date of birth, contact information, and Pa. driver's license or an ID card issued by the Pa. Department of Transportation (PennDOT).
It is important to note that personal information listed in the account profile must match what is listed on an individual's license or state ID; therefore, if your mailing address has changed, it is best to update the information through PennDOT.
Once successfully submitted, registrants will receive their patient ID. They'll also be asked to create a username and password for future accessibility.
2. Receive certification by an approved practitioner

After completing the registration process, applicants must visit an approved physician in order to receive certification that they are suffering from one of the 23 qualifying medical conditions. The DOH provides a list of practitioners that have been approved to participate in Pa.'s Medical Marijuana Program as of May 21, 2021.
These approved physicians have access to the Medical Marijuana Registry and can properly submit certifications in the system.
3. Pay a fee

Once certified by an approved practitioner, return to the Medical Marijuana Registry website where the application process first began. Patients will be asked to log in with their username and password, which are case-sensitive, then make a $50 payment for the medical marijuana card. Individuals may qualify for a discount if they participate in assistance programs, including CHIP, Medicaid, PACE/PACENET, SNAP, and WIC.
Patients can expect to receive their ID card in the mail within two to three weeks of completing their payment at the address listed on their patient profile.
The medical marijuana card and patient certification must both be renewed annually through the user portal. Patients will receive a 60-day reminder through email with information on how to complete the renewal process. The renewal must be completed by the specified due date, along with payment of the annual fee, to avoid deactivation.
If a medical marijuana card is lost, patients should immediately report it to the DOH. Replacements are provided for a $25 fee, while cards replaced after the first instance are $50.

Visit an approved medical marijuana dispensary

After receiving the medical marijuana card in the mail, you may visit any of the DOH-approved medical marijuana dispensaries in the state, such as Verilife. With locations across Pa., in Philadelphia (Manayunk), Williamsport, Chester, and Shamokin, Verilife provides a wide variety of medical marijuana options.
The modern open-concept facility creates an inviting space with its team of skilled specialists who can assist with identifying options that are best suited for patients.
For more information about obtaining medical marijuana from an approved dispensary, visit Verilife.

This article is for informational purposes only and is not considered legal advice on any subject matter. By viewing this article, the reader understands there is no attorney-client relationship between the reader and the article publisher. The article should not be used as a substitute for legal advice from a licensed professional attorney, and readers are urged to consult their own legal counsel on any specific legal questions concerning a specific situation.