The COVID-19 pandemic has brought upon a new norm, forcing many people in our country to shift how they experience life, from virtual classes and concerts to TV programming and even political conventions. As Philadelphia canceled all large events through February of next year, the 2020 Blue Cross Broad Street Run was tasked with implementing the same approach by going fully digital.
The now-virtual, 10-mile run allows avid runners to partake in the annual event at their own pace, on their own schedule, and wherever they'd like. Organizers strongly encourage participants to create their own route instead of following the original racecourse. From Sept. 12 through Oct. 4, runners can record their treks and results on a device of their choosing, and are then required to submit their data online. While awards will not be granted, each contender will receive a T-shirt and medal in the mail prior to the start of the event.
To prepare for your very first digital Run, we've listed five parks and trails in the city that'll get you in the running state of mind.
Fairmount Park
Fairmount Park is the largest municipal park in the city, so much so, in 2010 it was divided into two sections. Its East and West sides come with their own set of trails, including the Schuylkill River Trail, Forbidden Drive, Belmont Cross Country Trails, Boxers' Trail, and Poquessing Creek Trail. With over 2,000 acres, the hilly park is a runner's haven, allowing for challenging runs alongside scenic views of historic mansions, lakes, and landscapes.
Ben Franklin Bridge
Spanning 1.5 miles across the Delaware River, the Ben Franklin Bridge Pedestrian Walkway is a picturesque workout that provides impressive sights of the city's skyline and waterfront. The walkway connects Philadelphia to Camden, and no matter which side you enter from, there's a three-quarter-mile climb to the main platform. The intense workout is worth the photo opportunities and the hurdle.
Penn Park
Center City and running spaces are not synonymous with one another, so when UPenn opened its 24-acre park almost a decade ago, students and neighbors alike knew it would offer greenery and open space that wasn't commonly available. Penn Park, like the pedestrian walkway, has striking scenes of the skyline and the Schuylkill River. The biggest draw of any run, however, are the park's 530 trees that adorn the walking and jogging pathways, such as white pine, balsam pine, hackberry, and swamp white oak, to name a few.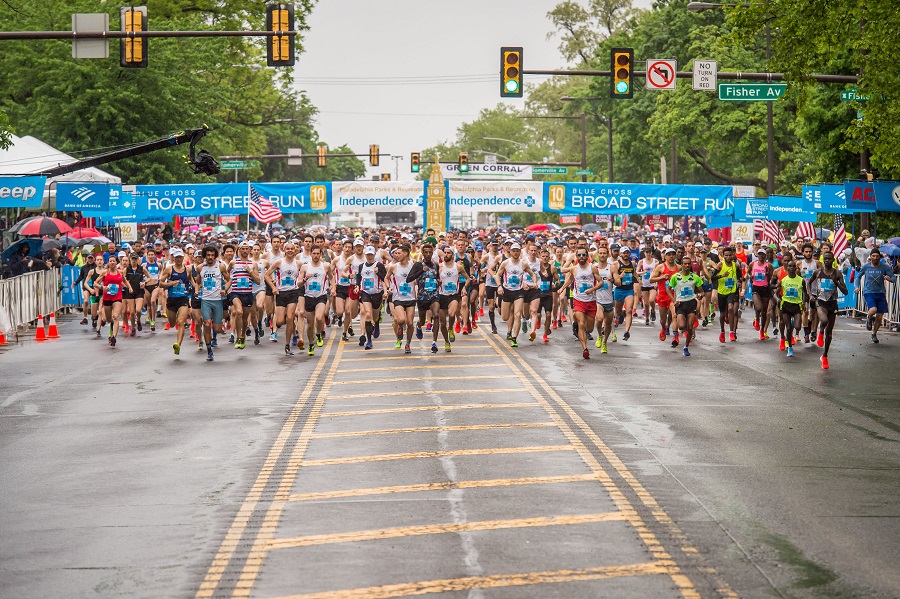 Kelly Drive Loop
For novice runners and marathoners, Kelly Drive serves as an introduction to the sport. Generations upon generations have frequented the Loop for cycling, jogging, walking, and even rollerblading (when it was a hot commodity in the '90s). The tried-and-true pathway stretches 8.5 miles, beginning and ending at the Philadelphia Art Museum, with photo-worthy shots of the Schuylkill River, Boathouse Row, and Center City. The Loop experiences high volumes of fitness goers and residents during the mornings, evenings, and weekends, but be sure to jet up the Art Museum steps to celebrate your victory run.

FDR Park
Hit the pavement running at FDR Park, whose flat loop makes it perfect practice grounds for marathon trainees. The calming scenery helps runners get into the zone and focus on the end goal of sprucing up tactics and beating old records. Known as a "green oasis in South Philadelphia," the three-and-a-half mile, round-trip park is a true hidden gem with its views of a lake, golf course, and statue of radio inventor, Guglielmo Marconi. If avid runners need a longer commute, they can expand their route to the Navy Yard.
Whether you decide to stay in your neighborhood or head to a local park, there are countless options available for the day of your virtual race. While family members and friends won't be there in person to root you on, the Blue Cross Broad Street Run encourages spectators to download Racejoy, a mobile app, for live tracking and virtual cheers.
For more information on how you can participate, visit broadstreetrun.com.