As high school, college, and professional athletes prepare to lace up their spikes for the University of Pennsylvania's 127th running of the Penn Relays presented by Toyota — beginning Thursday, April 27 — the iconic event proves that it's not just a track meet, but a rite of passage.
Since its inception in 1895, the Penn Relays has been a beacon of inspiration for competitors of all ages and abilities. Coming a long way, the event has grown from a collegiate track meet to a vibrant, three-day carnival celebrating the sport of track and field.
With a festival spirit drawn from Jamaica — a country not only famous for hosting the biggest Carnival spectacle in the Caribbean, but also for its love of track and field — fans from around the world gather at Franklin Field in Philadelphia to see family, friends, and current or former classmates, while also sharing their unique traditions with the city of Brotherly Love.
At the Penn Relays, vendor tents line Carnival Village in an explosion of color, music, dance, and food.
From honoring Ben Franklin to breaking world records
When the University of Pennsylvania first added a relay race to its annual spring meet in 1893, the concept of relay running was still relatively new. Today, the sport has surged in popularity, with many crediting the Penn Relays as a driving force behind its growth.
The Championship of America relay competitions remain a fan favorite, with thousands flocking to watch the high school and college teams and athletes from all over the world battle it out for the coveted Penn Relays plaque, a.k.a., "The Wheel."
But the Penn Relays offers so much more, including the 400-meter hurdles, steeplechase, and relay races for Special Olympics athletes. Field events like the pole vault, high jump, shot put, and javelin throw round out the action-packed schedule at the one and only Franklin Field and Mondschein Throwing Complex.
Named for Founding Father Ben Franklin, Franklin Field is home to the University of Pennsylvania's football, lacrosse, and track teams. It's also a place of many "firsts," from the first scoreboard to the first radio broadcast of a football game and the first commercially televised broadcast of a football game. And for many Philadelphia region high schoolers, it's also the first place they come into contact with elite runners from all over the world.
"The Penn Relays is considered one of the most significant track and field events of the year — if not the biggest," said Steve Dolan, who has been actively involved with the event in various capacities. Dolan, who serves as the Director of Track & Field/Cross Country at the University of Pennsylvania, continues to hold the position while also serving as the Frank Dolson Director of the Penn Relays since 2021.
Dolan's personal connection to the relays as a parent has only deepened his appreciation of the event.
"I have two boys who competed at Penn Relays in high school as a part of a relay team. It was actually one of the most exciting moments of their lives. Watching their team excel and celebrate their win was pretty unique as a parent," said Dolan.
After a two-year hiatus due to the COVID-19 pandemic, Penn Relays returned in 2022 with some notable changes that made the event even better. One of the most significant changes was the alignment of collegiate schedules for men and women, which allowed both genders to compete on Friday and Saturday, creating a more balanced program.
"There is nothing in my athletic career that compares to the roar of the Saturday crowd that I experienced as a college freshman on our 4×8 relay. I could not be more thrilled to see more collegiate women and high school girls experience that for the first time this year," said Claire Hewitt, Penn Relays Director of Operations.
Hewitt competed in high school at the Penn Relays for Friends Central from 1998-2001. She went on to be a runner for Penn, where she competed at Relays again from 2002-05, then won a watch in the Olympic Development steeplechase post-collegiate. Not only is she one of the biggest pieces in helping the Relays run now, but she also competed in it at three different levels.
This year, high school girls will have a chance to shine on Friday and Saturday for the first time, while the high school boys' program will be split over Thursday and Friday. Going forward, the boys' and girls' programs will alternate between Thursday-Friday and Friday-Saturday, giving everyone a chance to compete in front of the large Saturday crowd at Franklin Field.
"We want to ensure that all of the young men and women competing have an equal opportunity to demonstrate their skills," said Dolan. "These are students who are on track to become medalists themselves."
With over 16,000 participants of all ages and skill levels, including former Olympians, the Penn Relays attracts athletes and spectators from around the globe. But it's not just the athletes who make the event special — more than 110,000 ticket holders gather at Franklin Field over the three-day event to cheer them on and soak up the electrifying atmosphere.
"For someone who enjoys track and field, there's just nonstop action. When you walk into a stadium with this kind of a crowd and this kind of excitement, it really demonstrates that this is a one-of-a-kind experience," said Dolan.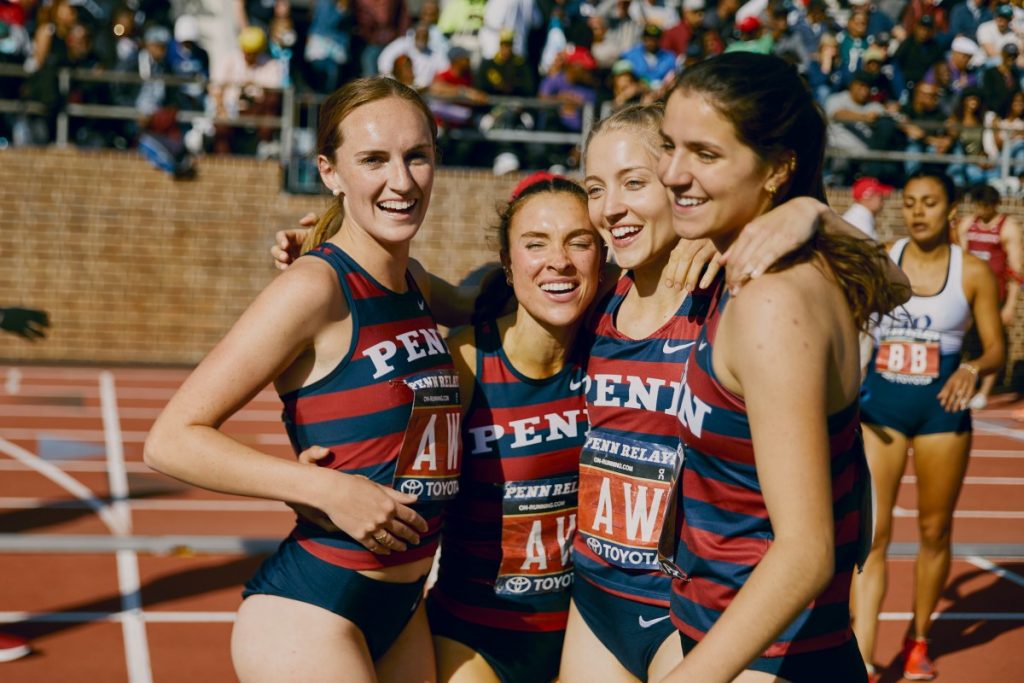 Penn Relays sets the stage for success
Serving as a learning opportunity for high schoolers who aspire to become future stars, the Penn Relays offer the chance to watch and learn from professional athletes in attendance. One such professional is Leroy Burrell, a Philadelphia native and former Penn Wood High School student.
Burrell's track and field journey began in Lansdowne, where he showcased his natural athleticism and won the state championship in the 100m, 200m, long jump, and triple jump.
Burrell continued to make a name for himself on the international stage, winning a relay gold medal as part of the U.S. 4×100m team at the 1992 Summer Olympics in Barcelona, Spain. Now, he's the Track & Field Head Coach at Auburn University and he's bringing his team to the Penn Relays — an event that he, of course, competed in while at Penn Wood High.
"As a high schooler, it was a pretty amazing experience, to say the least," said Burrell. "It's an opportunity to see a side of the sport that really captures people competitively and gives them something to strive for. It gives you the mindset to follow it and fall in love with what the sport's all about."
Burrell's coaching prowess is well-established, having spent the previous 23 years as head coach at his alma mater, the University of Houston. Under his leadership, the program thrived, winning an impressive 41 conference championships and producing over 150 All-Americans. As a former world record holder in the 100-meter dash and a former student-athlete at Houston, Burrell has established himself as one of the nation's premier coaches.
Much of his success can be attributed to the skills he acquired from his coaches and peers along the way, as well as his participation in events like the Penn Relays.
"The Penn Relays is a true incubator for excellence," said Burrell. "It's a place where you build some toughness and some great team continuity. It helps breed strength and resilience in athletes."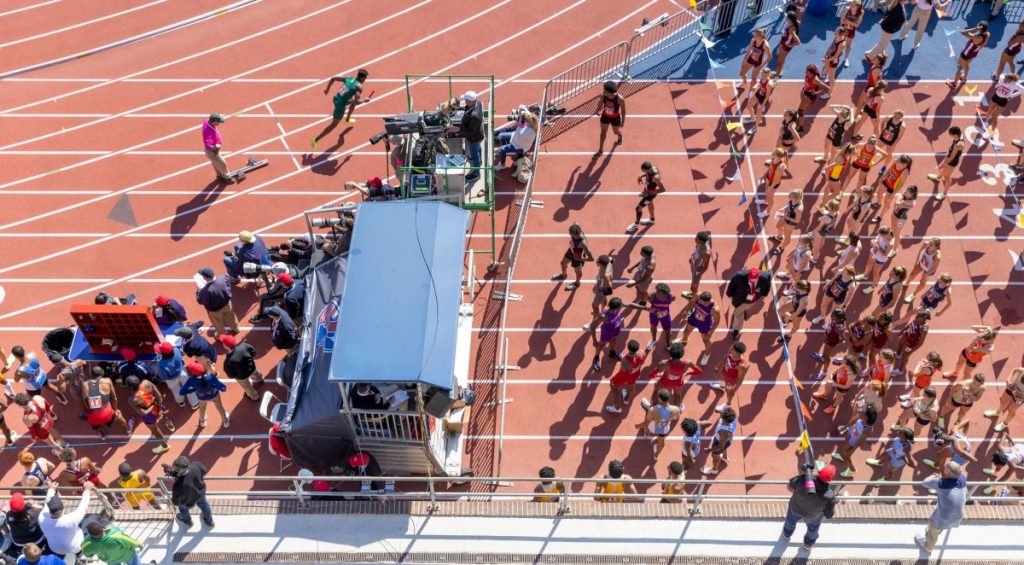 Resilience, rhythm, and revelry
But the Penn Relays aren't just about competition. It's about the sense of community and celebration that permeates the stadium and spills out into the vendor village outside. From DJs and food vendors to merchandise stalls and more, there's something for everyone at the Penn Relays.
And, rain or shine, the show goes on — no rain date is scheduled for the Penn Relays. That's just one more testament to the event's enduring spirit of resilience and determination. Whether you're a seasoned pro or a first-time runner, the Penn Relays is a rite of passage that's not to be missed.
For tickets and more information, visit Penn Relays.