Bloomsburg, Lock Haven, and Mansfield are boldly investing in the people and communities of Pennsylvania, together, as Commonwealth University.

Commonwealth U is an affordable, student-centered academic powerhouse with top programs — such as business administration, music, nursing, physician assistant, and special education — along with other in-demand options such as digital forensics and cybersecurity, music technology, professional sales and marketing, and sports management.

Get ready to tailor your degree with more than 80 proven, accredited programs and access to more minors, courses, and faculty experts than ever. All through one powerful university you can access from our Bloomsburg, Lock Haven, Mansfield, Clearfield, or Sayre locations in Northeastern and North Central Pennsylvania.

Uncommon opportunities lead to unbelievable experiences

Traditional, in-person instruction continues at all campuses, and new technology-enabled classrooms create real-time collaborative learning to expand your academic options, from bachelors, masters and doctoral programs to associates degrees, certificates, and even high school dual enrollment. That's harnessing the power of the combined resources of Bloomsburg, Lock Haven, and Mansfield as Commonwealth University.

Powerful value

With nearly 99% of our students employed or in grad school within a year of graduation, we provide a financially responsible degree option to prepare you for in-demand careers.

In fact, we've frozen tuition for the past four years.

Together, we're committed to making college even more accessible and affordable for students in Pennsylvania with new, guaranteed, renewable merit scholarships up to $5,000 per year for incoming students based on your high school GPA. Learn more at commonwealthu.edu/value.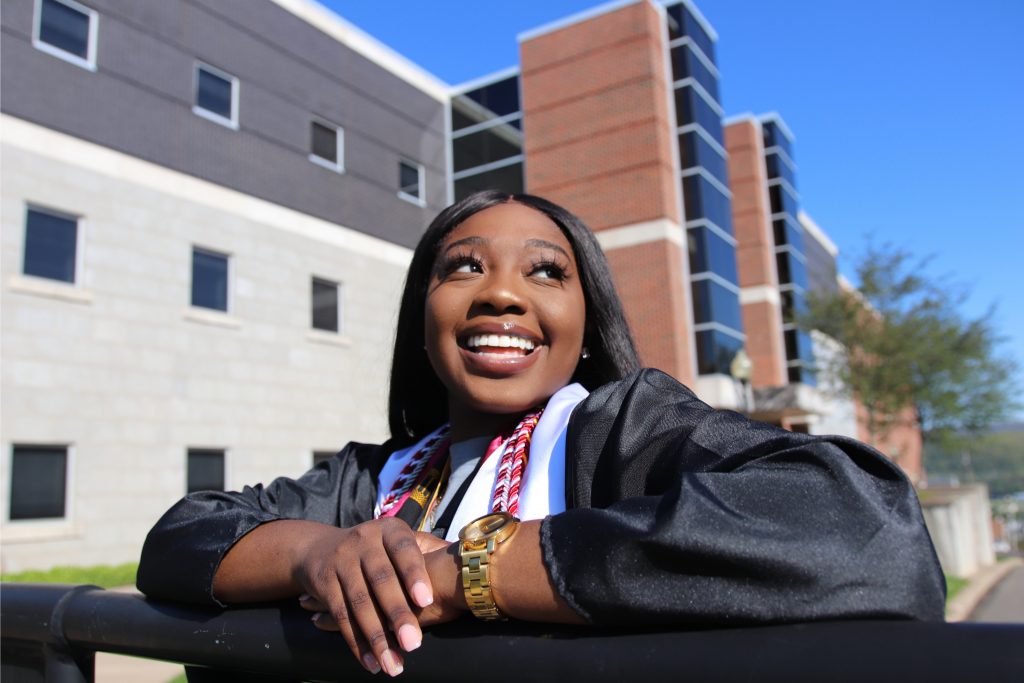 Powered by Professional U

The hallmark of our commitment to your career preparation, Professional U gives you unparalleled access to undergraduate research, internships, clinical and field experiences, and study abroad options. Develop your interests, build a resume, polish your interview skills, and gain the confidence to succeed in the career of your dreams. Our employer partners value our students and the experience they bring to the job on day one. And it won't be done alone. We're in this together, and that includes the collective power of an alumni network more than 143,000 members strong ready to welcome you and open doors along your journey.

Among them is Leslie Mensah, a 2022 pre-med biology graduate from Philadelphia. "I have a full journey ahead of me in fulfilling my destiny in becoming a medical doctor. Some of the best parts of my experience were connecting with specific professors and an advisor that cares for the future of students," she noted.

And it doesn't stop there

Bloomsburg, Lock Haven, and Mansfield continue to offer a robust slate of student activities, clubs, events, and campus life for an unforgettable college experience, plus a full complement of NCAA athletic programs at each campus that leads the spirit of Huskies, Bald Eagles, and Mountaineers.

Plus, with the connectivity of our campuses, you have even more opportunity to form lifelong friendships. When you step off campus, you're surrounded by endless adventure in some of the most beautiful locations in the Northeast that you need to see to believe.

This investment in your long-term success begins today. It's bold. It's revolutionary. It's ready for the taking.

Put the power of three to work for you and join us for one of our Spring Open Houses or schedule a visit today. Then, use one easy online application to apply to Commonwealth U and select the campus (or campuses!) of your choice.

Learn more at commonwealthu.edu.