At Fox Chase Cancer Center in Northeast Philadelphia, a compassionate local figure is making a meaningful impact on the lives of breast cancer patients.
Born and raised in the "Great Northeast," Dr. Michael G. Tecce provides the people he cares for with a fresh start through reconstructive surgery. Specializing in complex cancer reconstruction, he utilizes microsurgery techniques to address bone, soft tissue, and lymphatic system challenges.
"I try to be the part of their cancer journey that they can look forward to," said Dr. Tecce.
To get where he is now — assistant professor at the Department of Surgical Oncology at Fox Chase Cancer Center — Tecce's journey took him from the Philadelphia College of Osteopathic Medicine to the world-renowned Memorial Sloan Kettering in New York, celebrated for its microsurgery program.
Yet, it's Tecce's dedication to his Northeast Philly roots that truly sets him apart.
Upon arriving at Fox Chase Cancer Center in August 2023, an institution located just down the street from his childhood home, Tecce took on the mission to continuously push boundaries, achieve transformative results through innovative procedures, and eliminate unnecessary obstacles for patients seeking top-tier care. "At the end of the day, my goal is for that patient to get back to their daily life and feel the way they want to feel," said Tecce.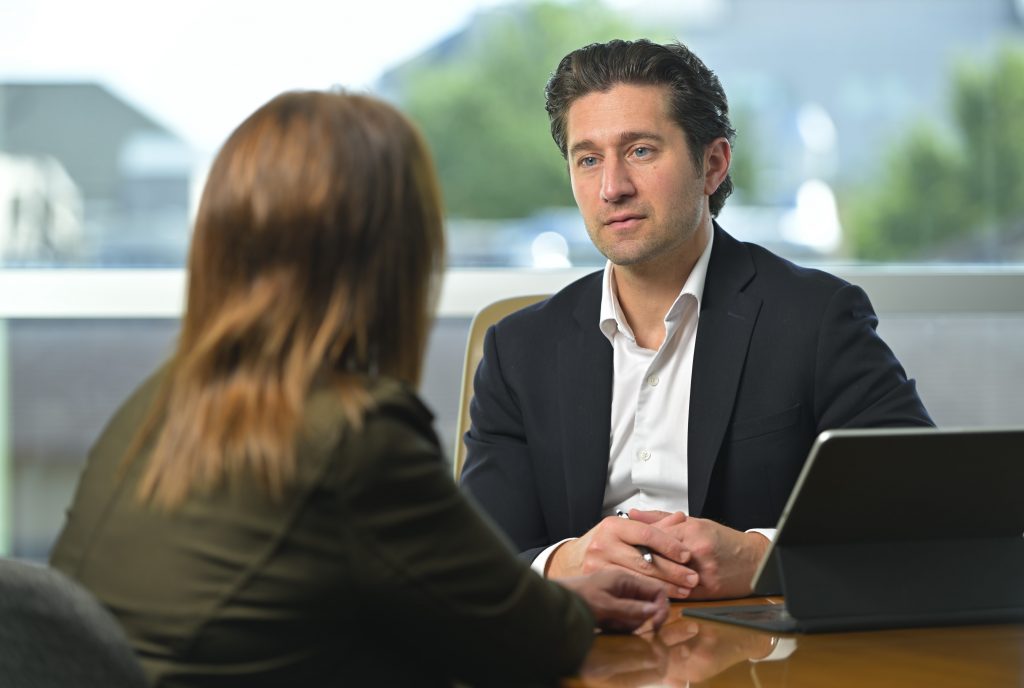 Breast reconstruction: A journey to wholeness
In the realm of breast cancer care, Tecce's unwavering dedication serves as a beacon of hope for those in search of not just medical expertise, but also a compassionate guiding hand through their challenging journeys.
Breast reconstruction, a crucial facet of breast cancer recovery, is an area where Tecce's expertise shines brightly. The road to reclaiming one's sense of self and wholeness after breast surgery is often riddled with questions and concerns. Tecce offers patients a range of customized options to address their unique needs.
"Cancer care, especially for breast cancer, doesn't just stop once we've removed the breast cancer itself. It's an ongoing process that involves the overall healing of the person, which includes the reconstruction and their mental well-being," said Tecce.
Breast reconstruction typically involves one of two primary approaches: implants or utilizing a patient's tissue.
"When it comes to cancer, patients often have limited control over their choices. But, when they get to me, I aim to bring some control back into their hands. They can decide what their preference for reconstruction might be, and we go from there," said Tecce.
For patients seeking implants, tissue expanders are typically the initial step, gradually enlarging the breast until it reaches the desired size. In some cases, implants can be used directly based on patient preference.
Implants offer a quicker recovery and are less invasive, but require future replacements every 10 years. The recovery process varies depending on the procedure. Patients should expect an overnight stay in the hospital and may experience some pain for a few days.
Meanwhile, using a patient's own tissue condenses future surgeries into one, involving a three-day hospital stay and intricate vascular connections.
Both options aim for minimal scarring. Implants typically result in scarring limited to the breast area, carefully hidden in natural skin folds or around the nipple. However, using one's own tissue involves an additional incision, which goes from one side of the hip to the other, typically hidden along the underwear line.
For Tecce, there isn't a one-size-fits-all approach. Each patient has unique preferences, but the shared goal is a transformative outcome.
"I want them to get back to their life before cancer," said Tecce. "The reconstructive process is not just physical, it's emotional. It's mental as well as physical. And if I can get a patient to get to the point where they're able to get back to their daily life and the things that they love to do and feel the way that they wanted to feel before they had cancer, then I think I've done my job."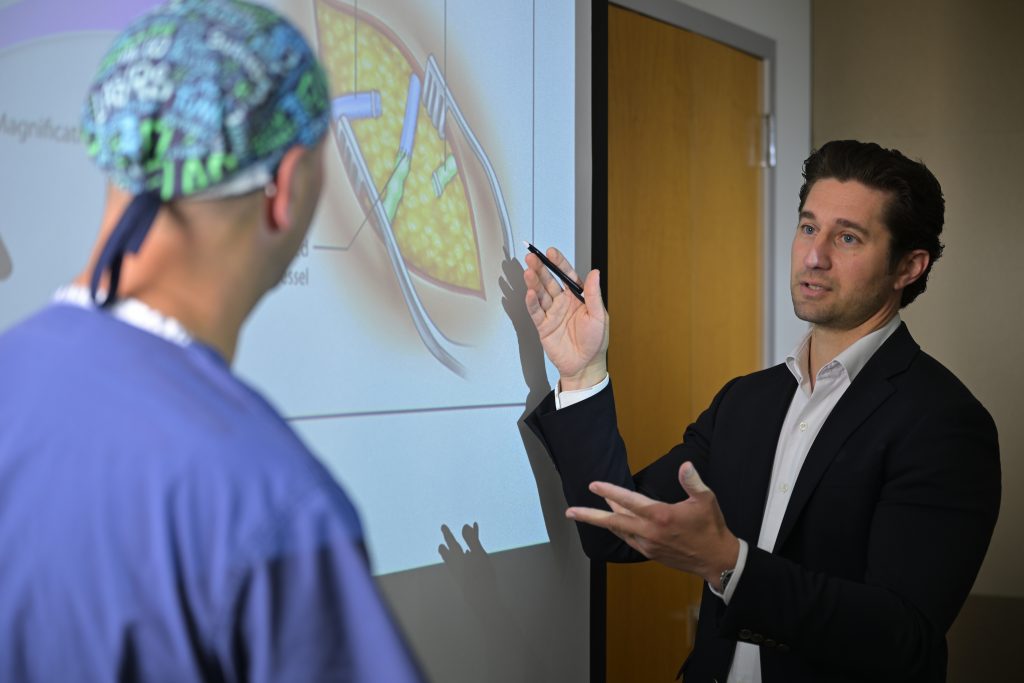 The unseen hurdle: Lymphedema during rehabilitation
In follow-up appointments, meticulous care is dedicated to ensuring patients' satisfaction with their reconstruction surgery. However, Tecce also recognizes the importance of addressing a commonly overlooked aspect of cancer treatment: a painful side effect known as lymphedema.
Lymphedema is tissue swelling caused by the buildup of fluid that's usually drained through the body's lymphatic system. An estimated 20% to 40% of patients undergoing an axillary lymph node dissection — removal of lymph nodes from the armpit, which is a common part of surgery for breast cancer — will develop lymphedema. This condition arises when lymph nodes, crucial for fluid drainage, are removed, leading to fluid accumulation in the limbs.
"Our efforts would not be possible, or they would be almost in vain, if it wasn't for the hard work of physical therapists and occupational therapists dedicated to treating lymphedema. They are the frontline warriors against this disease, deserving every bit of credit they can possibly get. They see these patients multiple times a week, assisting with wrapping, compression, and manual lymphatic drainage," said Tecce.
Fox Chase Cancer Center provides a specialized lymphedema program staffed by physical and occupational therapists who offer essential pre- and post-operative care.
"At Fox Chase, we focus on personalized cancer care. We don't treat patients as numbers," said Tecce. "Our infrastructure ensures personalized and rapid responses. We prioritize individual patient needs."
Tecce closely monitors all of his breast cancer patients because, in certain cases, he can offer lymphovenous bypass surgery. This microsurgical procedure, performed using precision microscopes and microscopic instruments, involves identifying lymphatic pathways. Surgeons, like Tecce, then make small incisions to reroute the lymphatic system by connecting tiny lymphatic vessels to small veins, creating a detour around damaged lymph nodes. This new connection effectively restores the body's ability to drain lymphatic fluids.
With each step, Tecce does everything he can to ensure his patients are walking away whole, with someone by their side every inch of the way.
"My approach revolves around being there for my patients. I aim to be the reassuring presence at the end of their challenging cancer journey," said Tecce. "I want to instill hope and excitement as they've already faced so much in their battle."
October is Breast Cancer Awareness Month. If you are a woman who is 40 and over, remember to schedule your mammogram. For more about breast cancer rehabilitation services, visit Fox Chase Cancer Center.