With sanitization efforts underway for a birthday party in the late afternoon, the team members at Brandywine Living at Dresher Estates, Pa., prepped for a champagne toast to celebrate a resident's leap into their 106th year. Residents would soon gather, physically distanced with comprehensive safety precautions, and socialize — flutes in hand, smiling underneath their masks.
The COVID-19 pandemic remained a reality beyond the walls of their beloved community, but team members and residents had found their stride in living vivaciously with safeguards set firmly in place. In a mission to dispel any notion of a wavering quality of life, Brandywine Living amplified their measures to reconnect their residents to the outside world, albeit a much safer version, by liberating their residents through new programming initiatives and a digital overhaul.
Welcome to a life of Brandywine luxury
Brandywine Living serves the Philadelphia-region and stretches across six states, including New Jersey, New York, Connecticut, Delaware, and Virginia, with 31 locations. At their premier assisted living communities, residents enjoy luxurious accommodations, along with activity-filled days and care from a staff that maintains exceptional community standards. Brandywine's diverse residents range from 56-years-old to the ever-graceful age of 108 (40+ residents across all locations are currently over 100 years old, and one resident fruitfully lived until 111).
In a daunting new world with a heightened sense of anxiety, Brandywine ensures that new residents are met with a seamless transition at move-in. Before settling in, newcomers receive questionnaires that gauge their interests. Team members become intimately familiar with a resident's favorite color, flower, and even food. Brandywine chefs will make new arrivals their favorite meal to accommodate and customize each experience.
Upon arrival, and to turn the recent quarantining into a relaxed and festive affair, Brandywine created personalized retreats for incoming residents. Recreational Directors produced a slew of events, known as "escapades," which is reflected in their vibrant title of "Escapade Producers." Amber Mansfield, an Escapades Producer at Brandywine Living at Brandall Estates in Linwood, NJ, recounted a recent tailgate she attended as a part of a resident's retreat.
"The resident was big on the Philadelphia Eagles. We set her up in her apartment with a nicely decorated table. We had a little tailgate party, and her family was actually on Zoom with us," Mansfield paused and laughed. "We were playing beer pong with water, watching highlights from the game. I'm not an Eagles fan, but she pushed me to become a believer."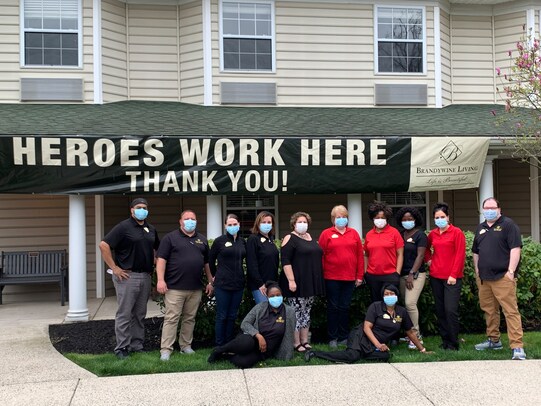 The show must go on
In addition to retreat activities, Brandywine's signature programs fall under their series of daily activities known as "Escapades… For Life!" Excitement is a priority at Brandywine's various locations, and workers met the pandemic head-on through adapted events, not cancellations. Escapades focus on a range of interests covering theater, art, games, as well as the mind and body.
Rachel Kaufman, an Escapades Producer at Brandywine Living at Dresher Estates, highlighted programs that have succeeded online. Residents now have the ability to virtually tour a new city or be guided through international museums. Tickets are much easier to come by to catch a show from the Philadelphia Orchestra or Metropolitan Opera. Residents can even comfortably attend their place of worship with online services.
Hands-on classes are also still being led in small groups online. Whether a resident enjoying a cooking class is preparing a fig and brie flatbread with arugula or painting their next masterpiece (pencils, brushes, and other tools are always sanitized before they're put away and used again), they remain heavily involved with a busy slate.
"The nice thing about the programs is whether you are coming down, actively participating, or in the dining room, or perhaps still don't feel comfortable entering common spaces, you are still included. You're able to enjoy the same meal. You're provided the same decorations," said Kaufman. "Every resident has the same information because we have a daily sheet that goes out to get the day started."
Popular Brandywine staples such as their seven-days-a-week exercise program, "Fun, Fit & Fabulous," shifted classes to an open-air setting to promote physical distancing. Vendors have moved all operations outside of the facility as an added protective barrier. Outdoor activities have become a safe haven and escape for residents, ranging from imaginative "drive-in" movie nights with large projectors to afternoon walks on the grounds, or even a trip to a horticulture class led by Stockton University. Residents are even dancing to a new tune as DJ-led cocktail hours hit the pavement.
Always encouraged, family visits are also conducted outside at the recommended distance of six-feet apart. Team Members are well-equipped with PPE and monitor visitors' temperatures, and don't allow a new group to come in or out without adequately sanitizing the area.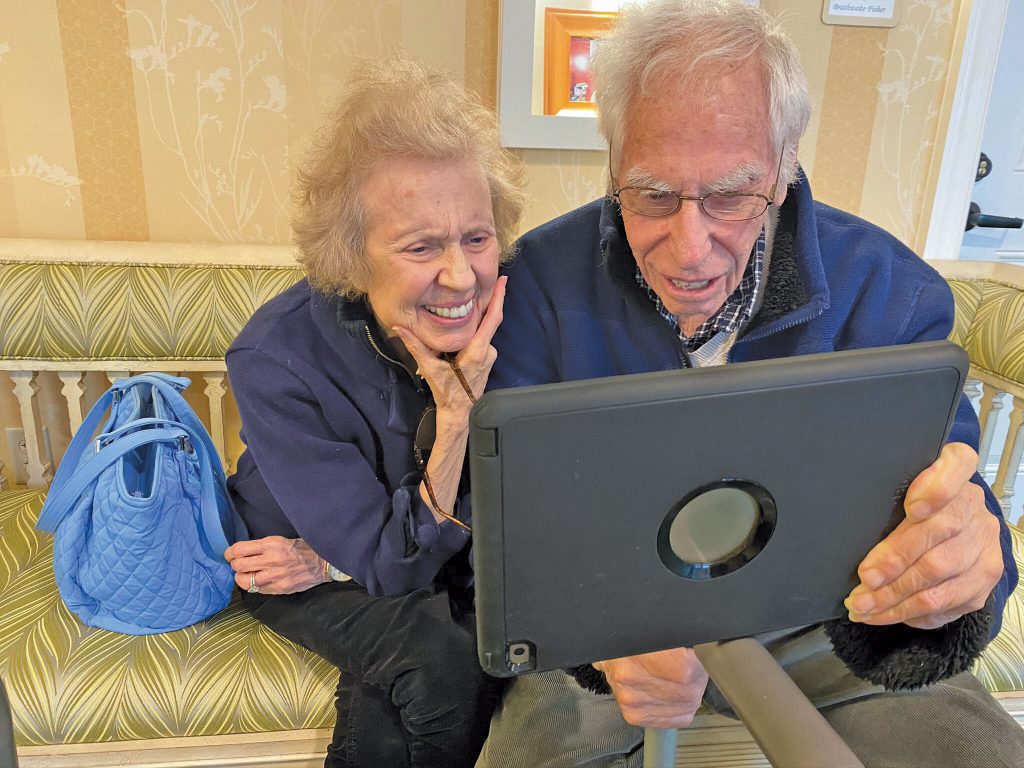 Redesigning the digital age for seniors
Brandywine residents have embraced technology's convenience and communal properties, from Fitbits to FaceTime calls with international-loved ones.

"One of my residents, their family, lives in London, and they have other members in Alaska. Like they're all over the world, and we have a chance to bring communication through technology," said Kaufman.
As Zoom becomes the great equalizer, new residents can connect with neighbors or join the classes at ease before ever entering the community. Friendships are formed without any deterrents.
Residents have even become comfortable enough as attendees that some are even leading courses of their own, pairing up with their virtual instructor.
Brandywine invested in laptops and tablets to guarantee that their staff and residents could stay connected if they didn't already have a personal device. Apple and Android products have become ever-present, as screens become multipurpose devices – a reality some residents chalked up to sci-fi nonsense decades ago.
"When we started FaceTime and Zoom calls at the beginning of the pandemic, we had a 95-year-old resident who was talking to her best friend. And she said, 'Do you believe this?'" said Kaufman. "They would talk to me about when they went to the World's Fair in the 1950s. They said with disbelief at the time, 'Someday you'll be able to talk to your friends through the television.'"
Most importantly, residents discovered the benefits of telehealth, which provides accessible remote care at the touch of their fingertips. Mansfield noted that Brandywine seniors are choosing the service as an alternative to leaving the premises. After an initial learning curve, residents became proponents of the service and saved in-person visits for essential appointments.
"Residents started to prefer staying here. They would tell us, 'I don't need to go to the doctor. I can call in. And then I can go to karaoke. I can go to see live entertainment at center stage and happy hour. I can go play basketball in the back and not have to leave,'" said Mansfield.
To learn more, visit Brandywine Living.