The COVID-19 pandemic has exacerbated hunger in the United States as a record number of people experiencing food insecurity grows deeper and wider. With the added pressure of the holiday season, families and individuals have become desperate for food assistance.
One organization that has risen to the challenge is Share Food Program, the Philadelphia region's largest food bank and hunger relief organization. Leading the fight against food insecurity by serving an expansive, quality partner network of community-based organizations and school districts engaged in food distribution, education, and food justice advocacy, the North Philadelphia-based nonprofit is currently serving more than 1 million people a month through their vast network of food pantries and schools.
Still, Share Food Program efforts to combat food insecurity began long before the global crisis—and they've only increased their footprint since.
Established in 1986 as a small food co-op working to combat food deserts and serve large parts of Philadelphia devoid of supermarkets or grocery stores, the hunger-relief nonprofit recognized that adding a food bank would help grow its mission to better serve the region. By June 2019, the food bank cemented its status as the regional leader after becoming the National School Lunch Program's original administrator. Share Food Program's operation now stretches across 794 public schools, nourishing 305,000 local children.
To meet the impact of COVID-19 in Philadelphia's most vulnerable communities, Share Food Program tripled its efforts to provide life-sustaining foods to children, families, and seniors. In fact, in October 2020, Share Food Program gave 10 million pounds of food to the region's pantries. In October 2019, they gave 2 million to 2.5 million pounds of food. Meanwhile, a rapidly growing number of people are in need of food.
Proactive response ensures success
Executive Director at Share Food Program, George Matysik, recognized that pandemic measures needed to be adjusted back in February, after hearing from the United States Department of Agriculture.
"Any programs that we do with the USDA, that food can get redeployed at anytime when there is a disaster on the horizon. The USDA and the State started calling us, just to kind of keep track of what our inventory was, how much product we had," said Matysik. "We began to recognize that there was going to be a significant tidal wave in front of us."
Matysik can vividly recall March 11, the day that the NBA shut down and President Trump announced the European travel ban, emphasizing the chaos that ensued in supermarkets soon after.
"Immediately, supermarket sales went up. Overnight, you had a complete disruption of the supply chain, and that impacted communities who don't necessarily have the means to shop online or find other ways to get food," said Matysik. "For our organization, it was just a perfect storm of need throughout the region. Not just for folks who had the means, who were having trouble sourcing food, but for those who didn't have the means. That's when we started going into overdrive."
The American Public Health Association estimated food insecurity more than tripled to 38% in March and April.
"Neighbors, families, and communities who were already marginalized continue to struggle with food insecurity. Philadelphia's middle neighborhoods like Overbrook have been impacted significantly as well," said Dr. Gregory J. Allen, founder and president of Overbrook West Neighbors, a longtime community-based partner of Share Food Program. "And our neighbors new to joblessness and hunger are now joining the ranks of those who need our help."
In fact, according to a national survey by Consumer Reports, around 19% of grocery shoppers—nearly one in five—said they received charitable food since the pandemic started, and half of them hadn't relied on these programs in the year prior to the pandemic.
In preparation for COVID-19's economic impact, Share Food Program invested in an additional $1.3 million worth of food. The nonprofit ensured they could continue to meet regional needs by expanding staff threefold, their fleet of trucks fourfold, and their refrigeration and freezer capacity fivefold.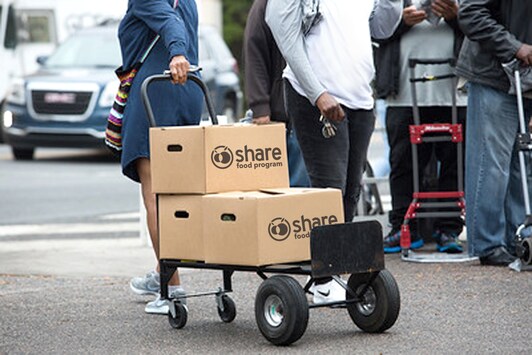 Altruistic allies step forward
Food donations remain critically important. In addition to adapting the supply and pantry network infrastructure, Share Food Program worked hard to maintain a staff of over 1,000 volunteers a month.
"When you look at other nonprofits, volunteer numbers had to go down because of the crisis. But our team really stepped up and made sure that we recruited, retained, and kept our volunteers safe each month," said Matysik.
Before social distancing measures, the majority of Share Food Program volunteers were exclusively brought to their warehouse to help package meals. Eventually, assembly lines dropped from 40 people to 13 packers—as the landscape of meals distributed drastically changed.
The organization created an initiative, "Knock, Drop, and Roll," to deliver hundreds of boxes of food to families and seniors in need.
"Volunteers show up at our warehouse, and we load their vehicles with 10 boxes of food and give them a route. We're able to ensure that regardless of a neighbor's situation, we're able to get food out to them," said Matysik. The program is for senior citizens, people with disabilities, and others who are vulnerable to COVID-19 and cannot regularly access food banks or pick-up locations.
As the holidays continue to stretch wallets and bank accounts, Share Food Program has yet to see an uptick in much-needed donations. Between March 1 and June 30, Share Food Program received $1.2 million in donations. But from July 1 through the first week of November, rates of giving fell to just $700,000.
"The investment that folks make in our organization has gone a considerable way further than it will with any other organization because we've had a response that is greater than nearly any other food bank in the country," said Matysik.
To find free food near you, volunteer, or donate, visit Share Food Program.