As parents, we hope to find the perfect school environment for our children. A perfect fit nurtures and encourages each child, strengthening and challenging a child's academic abilities, while fostering independence and self-esteem.

The six founders of Gladwyne Montessori were looking for these same ideals as parents themselves, and recognized that the curriculum used for early learners nationwide was inadequate. By overcoming countless challenges, they started a tradition of early learning excellence in the historic Gladwyne schoolhouse on August 22, 1962.

For over 60 years, Gladwyne Montessori has proven to be a perfect fit — a beautiful, nature-rich, five-acre campus in picturesque Gladwyne where children are significantly prepared for their educational journey, while being encouraged to grow, ask questions, and think differently.

At Gladwyne Montessori, we believe that learning is an active process of building and constructing knowledge, and we offer the best foundation for a lifetime of learning. Our programs, ranging in age from 6 weeks to 12 years old, are designed to promote innovation, independence, concentration, and joyful learning through an authentic delivery of Dr. Maria Montessori's research-based curriculum.

The Montessori method follows a constructivist approach to education and encourages learning to be student-driven, with Gladwyne Montessori's fully-accredited teachers serving as a guide through these lessons and works, rather than standing in front of students confined to desks. These educational pedagogies also enhance and increase the child's intrinsic motivation to learn. This intrinsic motivation is enhanced through the pursuit of individual interests, and their self-confidence is strengthened through the introduction of new materials based on individual readiness, learning style, and ability.
Rising above

Montessori's approach is pioneering for its time in terms of supporting executive functioning skills within the classroom experience. Students develop autonomy through purposeful choice and skills such as time management and planning. In Gladwyne Montessori's Elementary program, children keep track of their lessons through personalized work plans, allowing them to be the owners of their educational outcomes.

Decades of research has shown that, on average, Montessori-educated children are ahead in many developmental areas, such as independent thinking, leadership, social skills, sensory development, and language. We believe that our children will carry these skills well into their adult lives, and will have a greater overall sense of self and community as a result of the years they spend here.

While Gladwyne Montessori does not overly emphasize testing (the way many schools do), our students consistently score well above their peers on their ERB math, reading, and writing assessments.

In fact, our students score an average of 5% above students at other local private schools and 14% above local public schools.

Beginning in Kindergarten, our students also meet regularly with our talented team of Literacy Specialists, who use scientifically proven methods to increase students' reading comprehension to a level above the standard grade level performance of local public schools. They meet with students in small groups, multiple times per week, and encourage students to fall in love with reading.

Students at Gladwyne Montessori also benefit from small class sizes with a low student-to-teacher ratio. This allows for teachers to provide individualized and specialized instruction, completely meeting the needs of each child. Your child will be known and supported for the unique individual that they are at Gladwyne Montessori.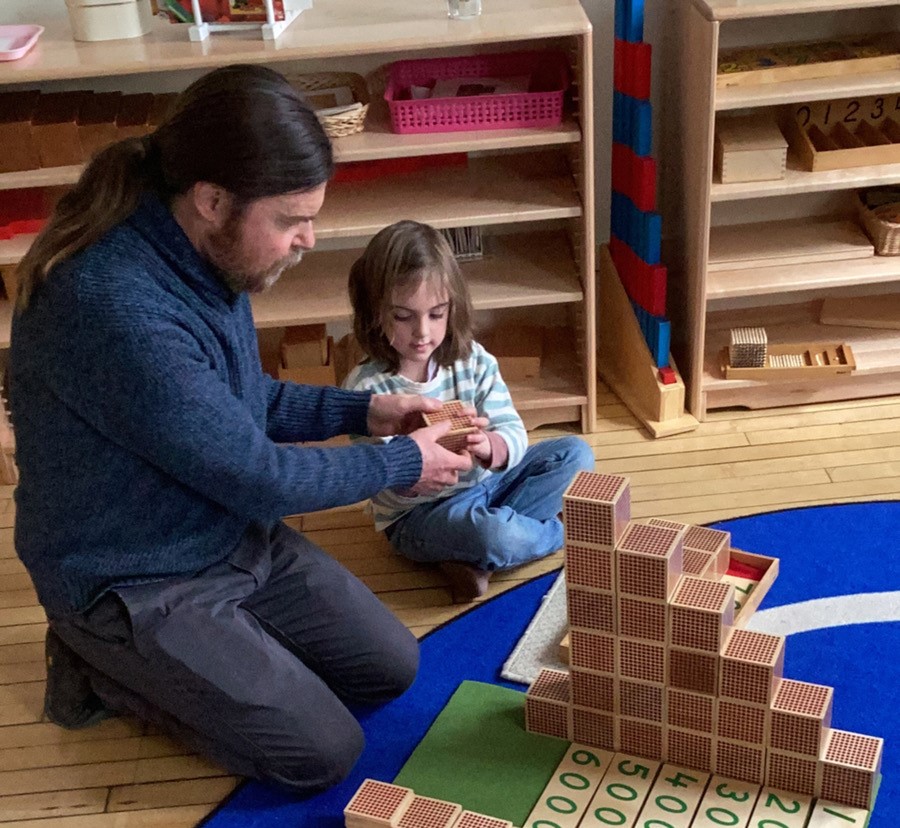 Learn more

Gladwyne Montessori is the only fully accredited AMS school on the Main Line serving a broad range of students from infancy through adolescence. As a result, it is the only local school where your child can continue to foster their love of learning with the Montessori methods that foreground the child and promote creativity and curiosity well into their Elementary years.

Contact our Admissions team today to discover the many ways your child can grow with us at Gladwyne Montessori.