As generative AI sparks worldwide intrigue, the head of Slalom Philadelphia's Data and Analytics team, David Frigeri, sat down to discuss the potential impact of this technology on the future of our business landscape. Frigeri, who is spearheading many of the generative AI efforts within Slalom, a global business and technology consulting company, shared his insights on how businesses can build effective generative AI strategies.
What is generative AI, and why is it such an important topic right now?
Generative AI is a subset of artificial intelligence that uses patterns and structures from input data to produce new data with similar characteristics, allowing businesses to generate text, audio, video, images, code, or even entire applications at a scale and speed rarely seen before.
Generative AI is self-learning. It can process massive amounts of data simultaneously across multiple sources, and it's also easily accessible, putting the power of AI directly into the hands of anybody who wants to use it. As such, this new technology has the potential to disrupt business models, evolve our relationships with customers and employees, and redefine brand affinity.
Who should use generative AI, and how can this technology be implemented strategically?
Any organization can leverage generative AI, from Fortune 500 companies to small nonprofits. For example, generative AI could be used in financial services to iterate different retirement plans or by life science organizations to compile research and facilitate drug discovery. Across industries, many organizations can also use generative AI to tap into historical data and improve online chat experiences for customers or personalize training content for employees.
While the possibilities are often limitless, it's also crucial that businesses look past the hype cycle of this new technology and start with a problem that needs to be addressed first. Generative AI should be used to tackle pain points that, when solved, will move the needle for an organization and create a competitive advantage over the lion's share of its industry.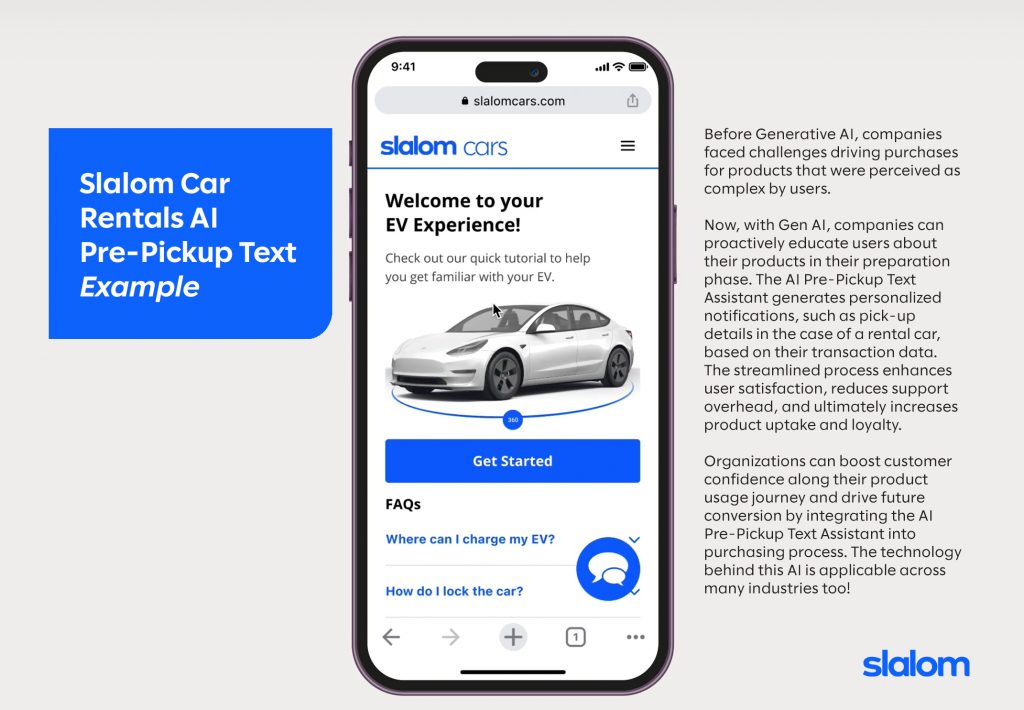 What do business leaders need to consider before investing in generative AI?
Few companies were aware of this technology in 2022, so business leaders will need to decide how big of an investment they want to make, and budgets will need to be refigured over the next one to three years. Additionally, focusing on data quality is also an important consideration because poor data in means poor data out. A foundational data strategy will increase trust and productivity while mitigating output bias that also impacts customer experience and perception.
Lastly, there are ethical, legal, and quality concerns that come with adopting any new technology. While generative AI can fuel creativity and innovation, it should be tested in a controlled environment first and then used responsibly to enable humans rather than compete with them.
What does the future look like for companies that adopt generative AI?
Typically, when generative AI is brought into business conversations, the focus is on driving efficiency and cost-savings, which generative AI can do. However, the true magnitude of generative AI's impact will be on customer relationships. By enacting generative AI, businesses can construct more enjoyable experiences, hyper-personalized products, and tailored services, resulting in higher customer satisfaction, overall brand sentiment, and customer lifetime value.
How is Slalom helping other companies implement generative AI?
At Slalom, generative AI represents an opportunity for us to realize the most ambitious version of our purpose: to help people and organizations dream bigger, move faster, and build better tomorrows for all. As a strategic partner, we'll guide and support our clients, harnessing generative AI's full potential to solve their most significant problems.
At the same time, we recognize that generative AI is only a small subset of artificial intelligence, but we can use this technology as an introduction into the larger realm of AI, where we can help businesses create transformational change at an even larger scale.
Slalom is a purpose-led, global business and technology consulting company. From strategy to implementation, our approach is fiercely human. In eight countries and 45 markets, we deeply understand our customers — and their customers — to deliver practical, end-to-end solutions that drive meaningful impact.
Learn more at slalom.com.