Friends Select School is the only pre-K-to-12 Quaker school in Center City Philadelphia. The beauty of our location at 17th Street and the Benjamin Franklin Parkway is that our students, faculty, and staff can walk, ride SEPTA, or take a short bus ride to extend their classroom learning into the amazing spaces that Philadelphia has to offer — from parks and museums, to universities and cultural sites, to government offices and vibrant neighborhoods.
With the city as a classroom, Friends Select's lower, middle, and upper school students and educators see themselves not just as observers of, but participants in, the complex fabric of everyday life in Philadelphia.
Friends Select practices education as the art of real and meaningful daily experience — creative, dynamic, and integrated with the world, built on a foundation of Quaker values and respectful relationships. We support our students fully and guide them as individuals to develop their talents and skills, but also challenge them to have agency and voice.
How are they going to use their gifts in the service of society? We believe that Friends Select is the ideal place for young people to develop a foundation of active citizenship for the whole of life.
With deep thought and intention, Friends Select recently transformed its spaces to enrich student learning and strengthen our neighborhood in the heart of the city. Walk into our reimagined Parkway Building and you will see a lobby filled with students — open, glass-walled lower school classrooms and an art studio buzzing with activity — and a hallway art gallery as inviting as it is inspiring.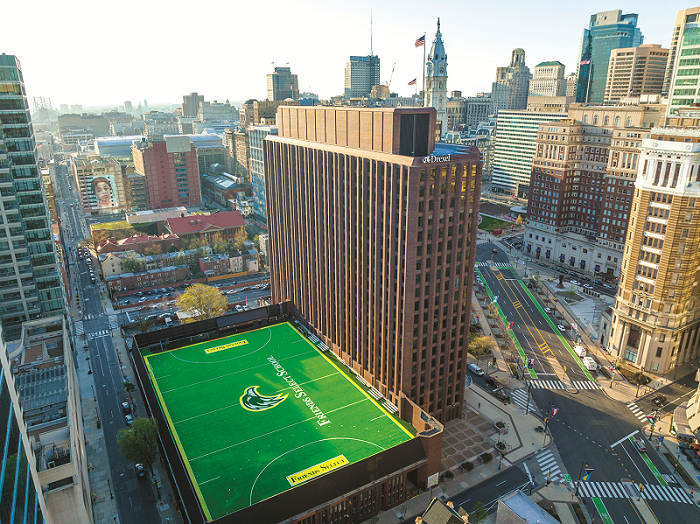 The updated rooftop athletic field brings our community together, not just for sports events, but for outdoor gatherings as well. And our new upper school STEAM Building at 1520 Race Street empowers our students to pursue advanced projects in science, technology, engineering, the arts, and mathematics as they prepare to become the innovators of tomorrow.
Don't just take our word for it! Come explore Friends Select firsthand during our upcoming Open Houses.