Popular Display on View November 18, 2022 – January 8, 2023

Merry and bright traditions reach magnificent new heights at Longwood Gardens during the holiday season. Towering trees glimmer with botanical ornaments, half-a-million dazzling lights artistically dot the landscape, crackling firepits add warmth to cozy winter evenings, and plenty of merry opportunities for festive fun abound November 18, 2022 – January 8, 2023, during A Longwood Christmas.
Each year, Longwood chooses a new theme for the holiday that is interpreted throughout the Gardens. This year's theme, Botanical Splendor, amplifies the beauty that is already found in nature, with Longwood's horticultural artisans transforming the Gardens into living works of art.
"We prepare all year for A Longwood Christmas," explains Longwood President and CEO Paul B. Redman. "Our staff and volunteers transform our Gardens and Conservatory into a holiday wonderland that has become a favorite tradition for guests from around the region," said Redman.
In 2021, more than 500,000 guests visited A Longwood Christmas, which is why guests should buy timed admission tickets before their visit at longwoodgardens.org.
While the festive lights, holiday finery, firepits, and strolling carolers are mainstays that delight both young and old, these top 10 standout features will surely be the talk of any holiday dinner.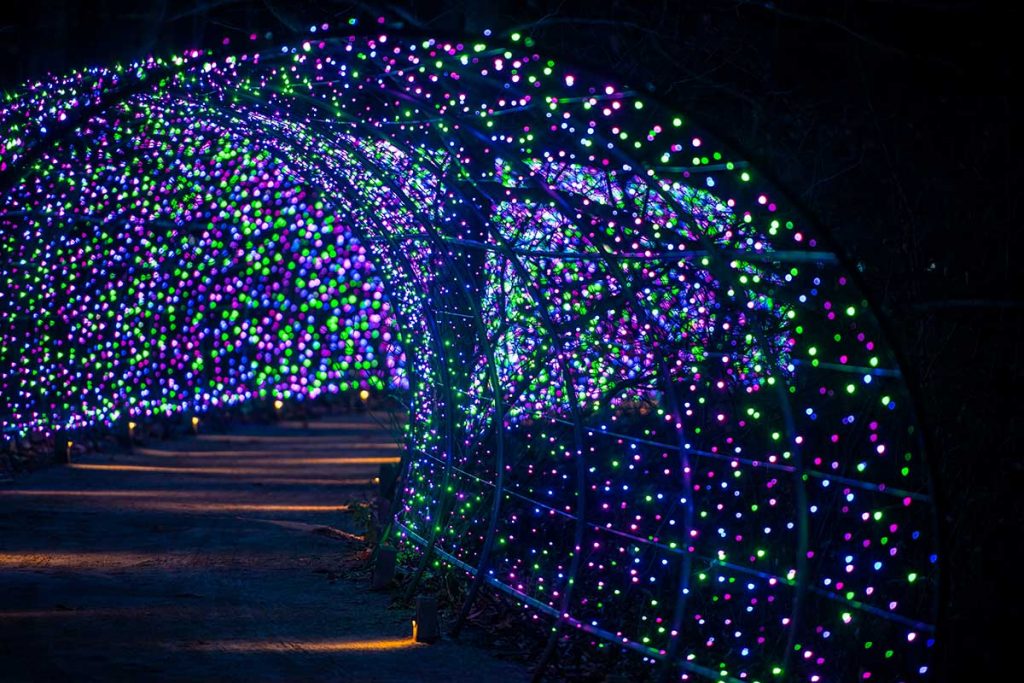 10 Not To Be Missed Features of A Longwood Christmas
A Floral Shop Fantasy — The Music Room is always a highlight of the display and this year it is "dressed up" as a lavish holiday floral shop. Couture gown-like sculptures created by students from Drexel University and fashioned from preserved, dried, and faux floral materials create a stunning focal point. Other unique touches include a handcrafted moss chair draped with a floral throw pillow, a wall of festive wreaths, and a towering 18-foot Fraser fir decorated with red, champagne, gold, and mint green ornaments. Beautiful fresh floral arrangements created by instructors in Longwood's Floral Design program adorn the room.
Main Fountain Garden Light Tunnel — A new 150-foot-long tunnel of lights beckons guests into the Main Fountain Garden where more lights fashioned into sculptural trees await.
Floating Tree — A 30-foot-tall floating tree lit in stunningly icy elements makes its debut near the Chimes Tower, which tolls holiday favorites.
Children's Trees and Music — A vision of gold, pearl, silver, champagne, and preserved florals deck out an 18-foot Fraser fir in the Ballroom. Additionally, nine 12-foot Children's Christmas Trees are lovingly dressed in garden-inspired ornaments crafted by local schools and organizations. Holiday music from the Longwood Organ throughout the day and night adds to the festive feel.
Orchid House — The newly restored Orchid House celebrates the season with a series of colorful orchid orbs hanging overhead.
Orchid Adorned Tree — Additional evergreen artistry is highlighted in the Silver Garden, where a tree adorned with more than 100 handmade ornaments crafted from pressed and dried flowers from Longwood's orchid collection, awaits your admiration.
Rose Arbor Light Artistry — Begin strolling down Flower Garden Drive, where a botanically inspired art installation in the Rose Arbor radiates an enchanting lighting pattern. Stroll down the Flower Garden Drive under a shower of cascading lights to the ever-popular Wildlife Tree draped in whimsically carved gourd lights and handcrafted ornaments that offer grains and seeds to feed nature's furry friends.
Glowing Luminaria — The Large Lake features luminaria arranged in an alternating leaf pattern. Nearby, a new icy blue and white light installation adorns the symmetrical splendor of the Italian Water Garden.
Meadow Garden — A winding path of illuminated grasses light the way along the Meadow Boardwalk as guests make their way to the beloved 200-foot-long shimmering Meadow Tunnel.
Holiday Railway — Train enthusiasts of all ages will delight in the Garden Railway as it travels past miniature Longwood landmarks. Find the Garden Railway near the Beer Garden and Café while stopping for festive holiday treats.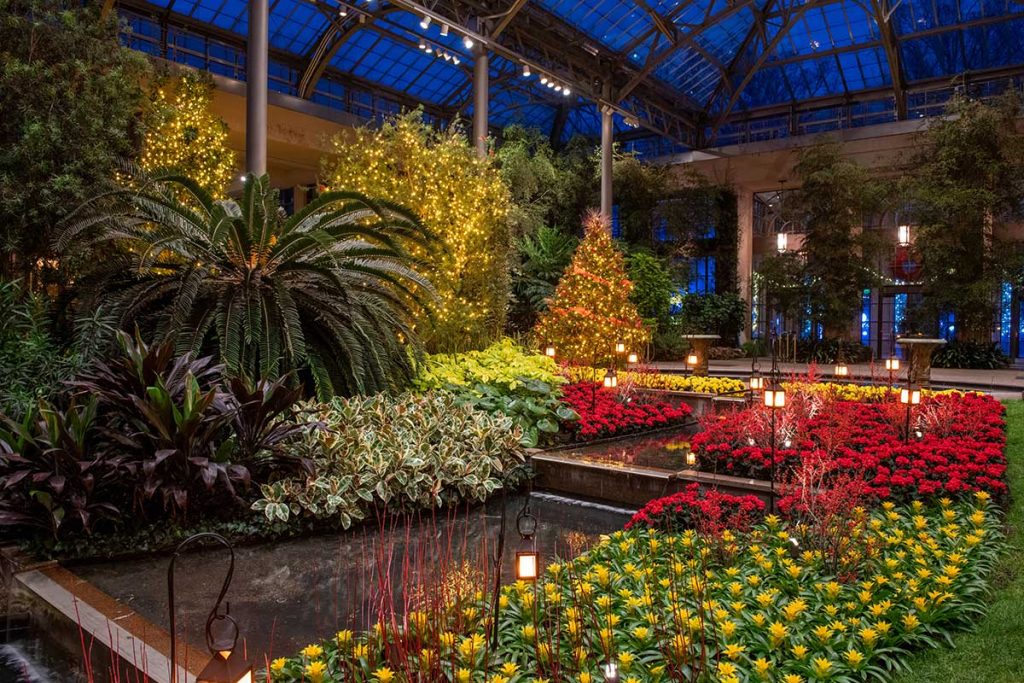 A Longwood Christmas is on view November 18, 2022–January 8, 2023. Admission to the Christmas display is by Timed Admission Ticket, with tickets purchased in advance for a specific date and time. Tickets are available now at longwoodgardens.org. Members require free, timed reservations every day. Gardens Premium Members and Innovators do not require reservations.