Nestled on the bustling blocks of North Philadelphia – where SEPTA buses zip around, residents stroll the streets, and shoppers make their rounds – lies a diverse group of long-standing, family-owned businesses. One destination in particular, though, brings a vibrant atmosphere to the neighborhood, with people coming from all over the nation, lugging their instruments into the towering white building on North 5th Street.
As a conservatory, concert hall, and music retail store all in one, Gibson School of Music and Arts is a generational staple of music education and tradition within the Olney community. Since opening in 1995, it has conducted hundreds of recitals and concerts, taught over 5,000 students, and continues to welcome passionate musicians, from adults to children as young as two years old.
But before the school evolved into a centerfold for music preservation, Gibson's Founder and Artistic Director, Professor Randy J. Gibson, envisioned a site that would help reshape the struggling Olney area and provide an outlet to inspire children through the arts.
"If you're coming from such an area that's on the news every night, your chances are limited and everything you do must count at an early age," says Gibson. "I knew these kids needed a chance."
Gibson, who studied at Temple University, the University of the Arts, and the now-closed Combs College of Music, is a concert pianist, composer, and recording artist. With over 30 years of experience performing internationally, he has brought his passion and training to instruct a variety of genres, including classical, jazz, country, rock, and R&B. He's also nurtured the talents of singer Jazmine Sullivan, keyboardist for The Roots Kamal Gray, and Grammy-award winning producer James Poyser.
Finding the means amid the pandemic
Due to the statewide shutdown in March 2020, the Gibson School closed its doors for the first time in over two decades. Gibson and his wife, Wilhelmina, were uncertain how they would pay for the school's mortgage and utility bills, and most importantly, their staff.
"Our first thought was to help the teachers and staff to make sure they were okay," says Gibson. "We were struggling, but my wife is good at keeping people grounded and she did a lot of research to find a way."
Wilhelmina spent late nights applying to local and national grants in support of black-owned small businesses, in hopes that the funding could help them pay off debts and allow them to install CDC-regulated procedures and equipment for when the school could reopen. She also reconnected with old contacts, tapped into various organizations for assistance, and signed up for webinars to learn how to modernize and rebrand the business.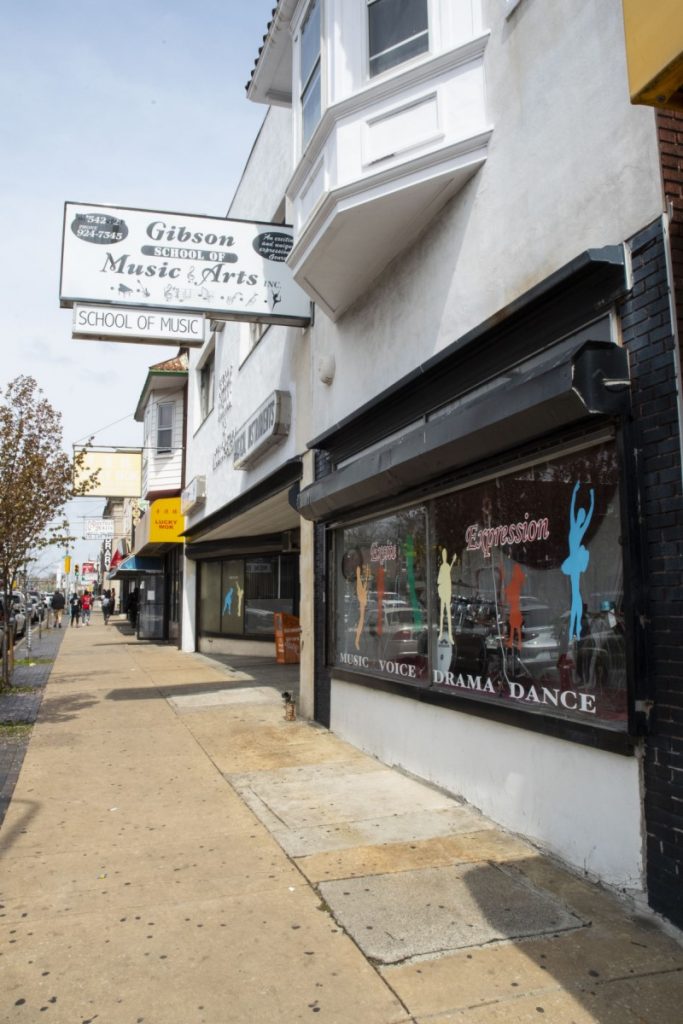 In December 2020, their prayers were answered. The Local Initiatives Support Corporation (LISC), a non-profit community development financial institution (CDFI) that supports small businesses, awarded the Gibsons with a $5,000 grant that they used to get the school back on track.

The LISC grant was made possible by Wells Fargo's Open for Business Fund (OFBF), a roughly $420 million small business recovery effort to help small businesses in the U.S. recover and rebuild. The initiative, which launched in July 2020, focuses on providing funding to small business owners through nonprofits, which can then provide small business loans, technical assistance, and long-term recovery and resiliency programs for small business owners.

As of March 2021, the OFBF has donated more than $125 million in grants, helping protect more than 22,800 small businesses and 66,000 jobs in the Philadelphia area and nationwide, the majority of which are at diverse-owned small businesses.

"With our neighbors and partners, LISC is proud to advance equitable economic recovery with a particular focus on increasing capital to those traditionally excluded. We remain grateful to Wells Fargo and the Open for Business Fund for helping us bridge the racial wealth gap and achieve our critical work," said Andrew Frishkoff, LISC Philadelphia – Executive Director.

For the Gibsons, the grant allowed them to pay their staff and bills. They were also able to install plexiglass in the music store and offices, professionally sanitize all three sectors of the building, and purchase personal protective equipment and proper social distancing signage. To limit the spread of aerosols from instruments, the couple stocked up on instrument bell covers—a type of fabric mask that is placed on the open end of brass and woodwind instruments—and drum shields.

"[COVID-19] made you think out of the box and forced you to really look at your business and see what things you can do differently," says Wilhelmina. "The grant was a huge blessing in helping us get to where we needed to be; we would be in so much debt without it."

"Small businesses like Gibson School of Music are the fabric of the Philadelphia community, providing essential jobs and services in our neighborhoods," said David Miree, Head of Consumer and Small Business Banking Diverse Customer Segments at Wells Fargo. "Wells Fargo has a long history of helping small businesses, and when the pandemic struck, we knew we needed to do more to help keep their doors open. We're proud this program is helping small business owners like Randy and Wilhelmina make a way."

Despite the fact that the Gibson School is still recovering from the pandemic, the Gibsons are pushing forward and finding their own way to give back to those in Olney. The couple is currently collecting proceeds to start a scholarship fund for students at the school.

"Truth is, none of us want to go through the worst circumstances, but those circumstances are what challenge us and bring out the best in us," says Gibson. "It was a very challenging year, but it brought out the best in me."

Learn more about how Wells Fargo's Open for Business Fund is helping small businesses in Philadelphia and beyond.