Students strap on their headsets and power up their gear. They study the mission brief and prepare for takeoff. They start working together on a simulation combining the excitement of space travel with practical, real-world STEM skills that will last a lifetime.

And it's all happening just a short bus ride from Philly.

The Challenger Learning Center at Montco Pottstown is one of the Philadelphia region's latest field trip destinations for students in grades 5-8. Kids learn STEM skills through hands-on space simulations that inspire them and ignite a lifelong passion for learning. Simulations like "Lunar Quest" and "Expedition Mars" motivate students to work together and think outside the box, offering exciting educational experiences that students won't soon forget — or stop talking about.

The Challenger Learning Center at Montco Pottstown officially opened on August 27, 2022. Teachers and schools can book their mission today for the upcoming school year, and explore a variety of mission formats:
In-Person Simulation Missions – These space-themed simulation-based experiences are led by trained Flight Directors and take place in a fully immersive Space Station and Mission Control at the Montco Pottstown campus.
Virtual Missions – Designed for students in grades 4-8, the one-hour virtual missions are delivered in real-time and focus on the importance of teamwork and collaboration.
Classroom Adventures – Developed by teachers for teachers, Classroom Adventures serve as a launch point to science units for grades 3-5. Themes include earth science, life science, and/or physical science.
Founded in 1986, Challenger Center was created to honor the crew of shuttle flight STS-51L. The Challenger Learning Center at Montco Pottstown is the first of its kind in the Commonwealth of Pennsylvania, joining a network of Centers that have reached nearly 6 million children around the world.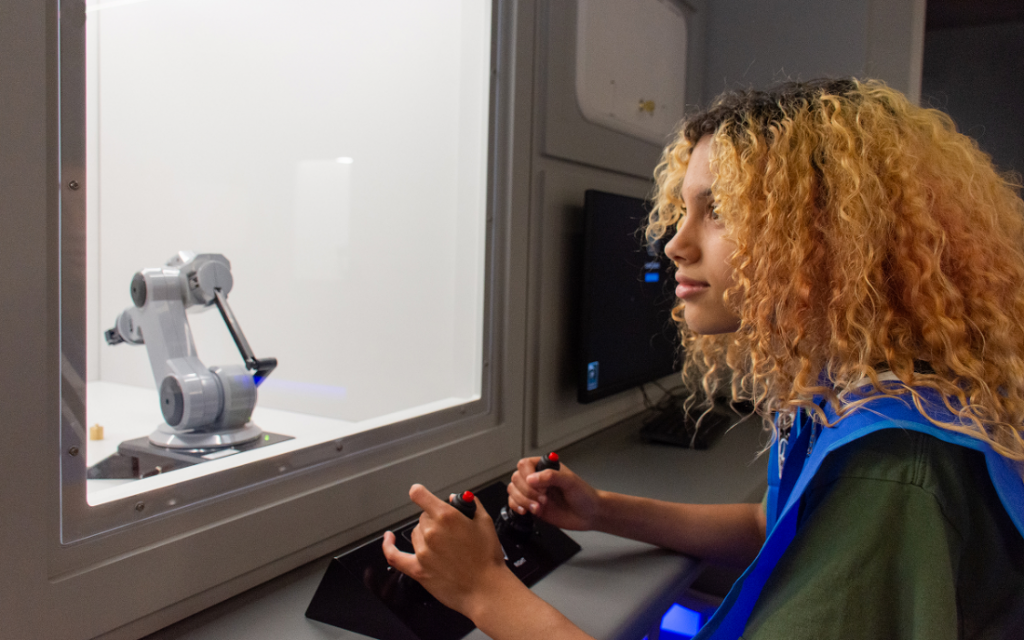 Empowering all students to find a passion for STEM skill
The Challenger Learning Center at Montco Pottstown is a key part of Montgomery County Community College's larger commitment to ensure students of all ages and all backgrounds have access to STEM learning and resources.
The number of STEM jobs nationwide is projected to increase by more than 10% through 2030, with median annual salaries of STEM occupations more than double those of non-STEM jobs. It's a learning path with tremendous potential, and many high-quality, high-paying STEM careers don't require a four-year college degree. Yet there are millions of STEM jobs that go unfilled, due to a skills and education gap.

But we're not just facing a STEM skills gap. We're facing a STEM inspiration gap, as well. For too many young people, particularly girls, students of color, and those from underserved communities, it's hard to picture a career in STEM. The power and potential of science and technology — including space exploration itself — can feel unattainable for kids who don't see people like themselves represented in these roles.
The Challenger Learning Center at Montco Pottstown is changing that.
Because space isn't just for astronauts. It's for all of us who have ever gazed up at the stars and dreamed of other worlds. It's for all of us who have put our heads together to tackle an impossible problem. It's for all of us who have been inspired by limitless potential and possibility. At the Challenger Center, we give grade school children real-world STEM skills through space exploration and experiential education environments that dare us all to find a lifelong passion for learning.

To book a mission, visit Challenger Learning Center at Montco Pottstown.